I'm so excited about this new series I begin today! Writers are storytellers, but musicians are, too. Today we begin a journey into the independent music realm.
Most of you will agree that books take us to unknown lands and put us in the middle of life issues and relationships that often become some of our best friends.
Music and its stories, well, they transport our souls to a different plane. They soothe our spirits and bring joy to our lives.
Today, I have the honor of introducing you to the Australian band SAOIRSE (pronounced SEER-sha).
Since coming together in 2006 SAOIRSE have firmly established themselves as one of Australia's leading Celtic/Folk bands. They have produced 3 CD's and are currently recording number 4. They've appeared at many Festivals and events across Australia and are actively engaged with the Irish community, helping with fundraising and support. They have had many highlights so far in their musical journey. In 2014 they received The Australian Celtic Music Awards for both album and song of the year
In 2015, SAOIRSE were invited to represent Ireland at the World Cricket Cup event staged at the Myer music bowl in Melbourne.
In August 2016 the band traveled to France to represent Australian Celtic music at the invitation of the Festival Interqueltic De LORIENT, the largest Celtic music festival in the world.
It was a great honour to be selected and to be part of such an amazing event. While in Europe the band played several gigs in Ireland, the Coleman centre, Sligo, Whelan's, Dublin, and An Culturlann, Belfast.
Most recently, SAOIRSE were honoured to play at a reception in Melbourne for Irish president, Mr. Michael Higgins.
2018 is shaping up to be another busy year with Festivals lined up and a new CD in the pipeline!
With soaring harmonies, beautiful ballads sung in English and Irish, including original material, jigs and reels, and even the odd step dance, a SAOIRSE performance will engage and delight your inner Celt!
SAOIRSE are:
Anthony O'Neill - Guitar, Fiddle, Mandolin, Vocals
Bernadette O'Neill - Bodhran, Vocals and feisty feet!
Kerry Mc Manus - Accordion, Whistle, Vocals and feisty feet!
Sile Coleman - Guitar, Mandolin, Vocals
They are close to releasing a new CD but are happy to promote 'Music Evermore' which is available on iTunes and CD baby. YouTube Saoirseoz.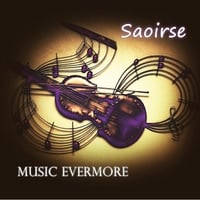 ***Personal note: Here is my favorite Saoirse song...
Molly Na Gcuach Ni Chuillleanain
Molly of the Dark Ringlets